"Happy Birthday, Stephens Auditorium! My favorite memory is as follows: Imagine being a naive and shy 16-year-old from small-town Iowa and being magically transported to OPENING NIGHT at CY Stephens with Seiji Ozawa and the New York Philharmonic! My Mom, Marion Miller and family friend, Ilene Myers, created an unforgettable memory for me that evening. I think it was then that I discovered the power and excitement of a live performance. I still remember that beautiful curtain and the excited "buzz" of the audience. I have since enjoyed many other evenings at CY, but Opening Night still remains a wonderful memory. Here's to many more memories created for future generations! Continued success!
– Jim M.
"First, a little background:  I was at Iowa State for interviews and settling into Ames in late 1964 but I didn't start work in the ISU Purchasing Department until February 1, 1965.  During lunch hour on that first day, I went to the Hub and bought one ticket for every performance on campus for the rest of the academic year.  That afternoon I received a call from Al Edgar who was impresario for Stephens Auditorium and the campus as a whole.  He wanted to get to know this patron from the Purchasing Department.  When the New York Symphony Orchestra came to Ames, I bought a ticket for every performance.
One of my connections with the building and its interior design was the purchase of the carpeting.  I bought the carpet from a company in Kansas City, Missouri who then hired a company in Lincoln, Nebraska to lay it.  The contract I wrote was to "cover the space," not giving the number of square yards to be covered.  I also specified five hundred additional yards of the same stock for our use to make repairs as needed.  The company from which we bought the carpet told the carpet layer there were a "few" steps in the building.  All of the carpet they thought they would use for the original lay was expended plus the extra 500 yards originally planned for later use.  The building had many more steps than the carpet company and the layer had planned.  Therefore, the carpet company was not paid for the extra carpet in the contract.  I would think the companies lost money on this job but the money was saved for the university because of my tight specifications."
-John M.
"In September of 1969, at the age of 7, my older sister took me to my first event at Stephens. The Cowsills opened for another band (sorry, can't remember which one). I remember sitting in a loge and listening to "Indian Lake." But it was after the concert that we experienced a unique event. It had been raining the whole evening, and as we all exited, the rain is torrential. People weren't familiar with the Center and its parking lots; particularly the drainage ditches between each lot. The ditches were all full of water, giving the impression that they were continuous, flat surfaces. As a result, many people hurried between the lots, stepping into the water as if it were only a big puddle. Instead, they found it more like a swimming pool as people found themselves waist-deep in water. To this day when I tailgate, I still won't walk through those drainage areas, even if fellow-tailgaters are there. "
-Jim T.
"As a high school student, it was a pleasure watching the construction of C.Y. Stephens when I worked in the Agronomy Department soybean fields (where Jack Trice Stadium is located now.) So it was thrill to listen to the New York Philharmonic inaugural concert as a freshman in the just-completed, gorgeous facility. (I could not afford the tickets; so I served as an usher for the series.) But for this eighteen-year-old, it was more fun to attend the first concert in C.Y. of the Cowsills and Kenny Rogers for New Student Week. I do not remember the music well, but I vividly remember after the concert. It was raining very hard. We were running to the parking lots to our cars so we could return to the Auditorium to meet our dates. The newly-poured black asphalt was glistening with puddles of water. We knew where our cars were, but we did not know or remember there were/are drainage ditches throughout the parking lot. Sadly, many our sprints to the cars were interrupted with up-to-our-necks baths in the ditches that were completely filled with water."
-Reid C.
"My Stephens story is, unlike most of my stories, very brief. When the New York Philharmonic Symphony came to open the auditorium, I was on an ISU Faculty Improvement Leave and was in England! I missed the entire first season at Stephens! Although my year away brought me many enriching experiences, I've always felt I missed one of the most enriching experiences back here in Ames."
-Kathryn M.
"My earliest memory was while in high school (at Boone High) in the early 1970's, our band got to perform on stage. We went back stage and saw the dressing rooms and thought it was cool to perform in Stephens."
-Carla H.
"I was a freshman in high school in 1970 when our high school in Carroll, Iowa offered a student trip to listen to the (Minnesota? ) symphony at CY Stephens. I made the trip even though I couldn't talk any of my friends in to going along. I remember the grand sweep of stairs and the vivid red carpeting. I also climbed quite a few steps to sit in what was, most likely, the highest level. But even from there, the sound was incredible and I enjoyed the experience tremendously."
-Jane W.
"I enrolled at Iowa State in the fall of 1970. My roommate encouraged me to audition for SOV even though I'd never been in any performance. I was cast in the show, Mame, and I was hooked! I went on to perform in 2 additional SOV productions, Hello Dolly and Applause where I played the role of Eve. While rehearsing for Applause, Jon Lee cast me as Fanny Brice in the MURST production of Funny Girl. I was invited back to participate in the STARS OVER STARS OVER VEISHEA Gala with several prominent alumni including Mark Pinter, Colleen Z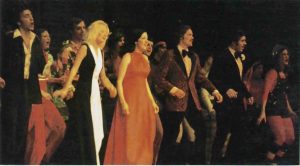 enk Pinter and Jon and Susan Lee. The finale included the entrance of the full ISU Marching Band – what a show stopper!
Another favorite memory: BJ Thomas was scheduled to perform but his son got sick and he flew back to New York on the day he was to play C.Y. Stephens. The "fill-in" was an unknown coffee house singer named John Denver who was brough in from Minneapolis. Refunds were offered but the group of us from Oak Hall had nothing better to do so we went to what turned out to be my favorite concert while at ISU. A few months after he performed, "Country Roads" was #1 on the charts.
Such great memories of this magnificent performance venue!
(in the attached photo, I am the one in the long red dress) "
-Mary T. J.
"As nearly 70 year residents of Ames, and 50 year supporters of C Y, we have many wonderful memories of the many changes in the city and the university. Among them are the development of the Iowa State Center & C. Y. Stephens Auditorium. As they were preparing for the grand opening of the auditorium in 1969 & the unprecedented series of 5 concerts by the NY Symphony Orchestra there was an invitation extended to the general public to join the Iowa State Chorus as they joined in the opening concert under the direction of Seija Ocawa (sp?) I was fortunate to be one of those chosen to be part of that group of around 400 singers & have cherished the memory & thrill of being a part of such a grand & unique event."
-Alice T.
"My first view of Stephens was from the stage during construction. I was a student in the summer of 1969 working for ISU Mail Service. My boss took us to CY and we entered through the loading dock. Walking onto the stage, I will never forget the view of the main floor and 3 balconies of seats that seemed to rise forever.
I was also in CY for the very first performance of The Cowsills/Kenny Rogers and the First Edition. In those days there were 2 shows. I attended the first show. When the show let out, it was pouring rain. The rain was falling so hard, the curbs along Center Street were over-flowing. When my friend and I got to our car we took off our shoes and dumped the water out. I heard that the rain blew under the doors on the north end of CY and caused extra work in preparing for the big gala opening with the NY Philaharmonic.
I have attended and participated in many events at CY since those first days. My most memorable was sponsoring "A Prairie Home Companion" in February 2002. I worked at WOI Radio and we brought the show to town. The staff at the center told us that our show sold out the fastest and had the largest dollar gate to that point. It was a great partnership for WOI, the Center and APHC."
-Don W.
"I had friends who attended Iowa State and they got us tickets for the UB40 concert. When we arrived at Stephens, we were pulled to the side. We were not sure what we did. Come to find out that UB40 had so much sound, lighting, etc. equipment that they took our seats for it in the auditorium. Thus, we were reassigned. Thinking we would get really bad seats, we were internally disappointed. As we entered the auditorium, we were lead to our new seats. We kept getting closer and closer to the stage. Since we were inconvenienced, they put us front and center in the orchestra pit just feet away from the stage. We had a wonderful evening!"
-Jason F.
"I was in the Iowa State Singers for the opening of Stephens Auditorium and sang with the New York Symphony Orchestra conducted by Seiji Ozawa. We practiced and practiced and practiced with Dr. Pritchard for the upcoming performance and felt ready when Ozawa made his appearance at our first orchestra/chorus rehearsal. Of course we were all extremely nervous. He raised his baton. The orchestra started. We sang the first note on the beat in tune. After a couple of seconds of singing, Ozawa banged his baton down on the stand and said, "I was told that these singers were ready!" and he stormed off the stage. Of course he did come back after a few minutes. Our performance was a master piece befitting the Stephens Auditorium stature. What a great experience being at ISU at that time and given the opportunity to participate in a magnificent week celebrating this important event!"
-Kate Q.
"I am not sure of the history of succeeding Ames High School graduations classes; but, the AHS Class of 1970 held their Baccalaureate Service at C.Y. Stephens. As far as I know, our class is the only class that has that particular history. It was the first year to my knowledge that Baccalaureate was not held at the high school and because of the turbulent times, an alternative needed to be found. The University was gracious enough to offer the "new" facility, Stephens Auditorium."
-Lynne C.
"My first time at CY I believe was February 20,1971 to a Letterman's concert. It was raining so hard you could hardly see to get inside the building. My date at the time proposed to me during this concert. ( But he wasn't the man I married ).
Now around 47 years later I buy season tickets and have enjoyed many, many great performances.
Back when CY was being built in 1966-1969 my older brother was on one of the construction crews, he has passed on now but every time I attend as I climb all those steps I say to him WHY so many steps!!
Great memories at a wonderful venue in Ames,IA/Iowa State University."
-Lynn A.
"I was there the night the Cowsills played but for some reason don't remember Kenny Rogers. Perhaps because as a young 12 year old I may have been smitten by the cute young Cowsill daughter, Susan. If I'm not mistaken it poured rain that night and after the show people were swimming in the drainage ditches between the parking lots. I was also fortunate to see The Grass Roots as well as Jose Greco as my parents wanted me to be a flamenco dancer. Sheesh, that was a rough show to sit through. Through the years of John Denver, Crosby, Stills and Nash and many others, Stephens has been a fabulous venue for some fantastic shows."
-Chuck D.
"My mother and I went to C.Y. Stephens Auditorium on April 1, 2006 to attend Canadian singer Anne Murray's concert and what a treat it was! Prior to the performance, I emailed Anne Murray's manager and told her how we were big fans of Anne's and how we would love to meet her when she came to Ames. To our surprise, we heard back from Anne's manager and she arranged for us to have a meet and greet with Anne after the concert! Anne Murray was so nice and sang many of her hit songs including "Could I Have This Dance" which was the song my sister  danced to on her wedding day back in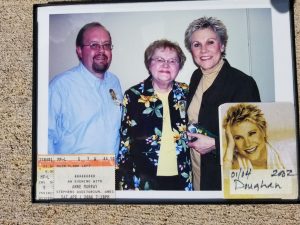 1955. When we met Anne, I gave her a Korean coin purse as a gift which I had brought back to the U.S. after teaching overseas. I hope Anne enjoyed using it! She was such a gracious lady and is still one of my favorite singers. Happy 50th Anniversary, C.Y. Stephens Auditorium and thank you for all the wonderful performances you have brought to Ames! "
-David D.
"We attended the Lincoln Center Jazz Orchestra Concert with Wynton Marsalis with our then 6th grade son who played trombone. After the concert was over, we were waiting in our seats to let the crowd disperse, when a volunteer came by and let us know that there was an open green room to meet the band. It was such a delight to meet Wynton and get his autograph, and he spent several minutes talking to my son and encouraging him to continue his musical development. The only disappointment for me was that before going to the concert, I had taken my camera out of my purse thinking I wouldn't need it (this was before cell phones!) and so we don't have a picture of that meeting. But it is one of the many great memories we have of attending concerts at Stephens."
– Lisa & William S.
"When I was a freshman in college in 1996, I attended a performance of The Nutcracker at CY Stephens. It was a beautiful performance and after it ended there was a light snow falling and as I was walking across the bridge back to campus, someone had spelled the words "Marry Me Jill" in Christmas lights in the top windows of the Larch dorm. I really wished I had been Jill. I thought it was a romantic story."
-Lisa D.
"When CY Stephens first produced The Nutcracker, a friend was in charge of costuming. I was a willing sewer, so I spent many days in the basement of Stephens working on the costumes. I sewed the mice. They were heavy, gray upholstery fabric with stretch pink stomachs. I think they survived a lot of years.
A couple years later, I auditioned for Nutcracker and was a party guest. I was a guest every year until I left Ames. The nice thing about the party guest role is that we were in the first scene, and then we were done for the night. It was a great time to get caught up friends that I might see only during Nutcracker rehearsals and performances."
-Stanley R.
"Professor Emerita Betty Toman, in charge of the dance program in the ISU Department of Physical Education for 40 years, directed Barjche, the student dance concert, which was performed annually on the McKay Hall stage.  Ralph Borck from the Department of Music served as her technical staff creatively working with what little theatrical lighting was available in that lecture hall.
So, as construction began on Stephens Auditorium, Betty and Ralph went to the worksite.  They edged out on a swaying bridge, or catwalk, and looked down into what Betty remembers as a very, very big hole in the ground.  It was a dramatic realization for Betty that the student dance concert would soon move to a glorious concert hall with state of the art equipment, and seating for far more audience members than ever before.
One  surprise, however, was that the Stephens stage was so much larger than McKay the dancers who had to exit stage left and re-enter stage right literally ran across the backstage area to make their entrances on cue."
-Betty T.
"Hello
My favorite memory:
I graduated from ISU with an architecture degree in 1975 and a masters in 1978.  CY Stephens was recently completed when I showed up for my freshman year in 1970.
All the architecture students were in awe of the design and classes toured the building to learn more about the design.  I have loved every concert I have attended from Garrison Keilor to Chicago.
It is definitely my favorite building on the campus.
Fast forward to 2007.  My wife and I are at a Reiki conference in upstate New York and we immediately connect with a couple leading the conference.  Both very spiritual and soulful.
After the conference we decided to stay another day and just enjoy the place as did the couple.
We are lounging in the lobby and I started a conversation with the woman.  "So where are you from?" I asked.  She said "Cedar Rapids".  "Oh that's interesting we are from Des Moines" I replied.
Somehow she learned I was an architect and she then told me she was Laurelle Crites, the daughter of Ray Crites who designed CY Stephens.  I was in awe.
He was a design professor while I was in graduate school and greatly influence the architect I am today.  I'd even been to his house and loved his work.
They are now dear friends and we have visited them in Arizona many times.
Several years ago Laurelle gave me something I will always treasure, her father's pocket compass he wore around his neck.
I look at it every morning and think of Laurelle, Ray, and the great work he did including CY Stephens.
It has also been my honor to be part of many projects on the ISU campus.
In late summer, 1969, I came back to Ames before classes started for my senior year at Iowa State.  The New York Philharmonic was coming to town, and Oratorio Chorus, in which I was a singer, was joining Iowa State Singers to perform with them for one of the opening concerts in the new auditorium.  We needed to come back to Ames early for rehearsals in the new venue, so I showed up at the appointed time, at the appointed south entrance to the building.  C.Y. Stephens hadn't opened for business yet, so I had no idea where that south door was taking me inside the structure.
I got there with time to spare, so once inside this huge space of unfinished concrete walls and floor, I decided to wander around.  I walked toward the northwest corner of the space and walked through an opening that wound around back toward the east.  I walked several steps along this path, heading east, and it opened into a larger space.
As I stepped into this larger space, something felt very strange.  The sound of my footsteps changed.  I felt a "presence" to my left.  It was as if there was an enormous, living, breathing—but friendly—thing there to the left of me.  I turned my head and saw it.  I realized I was on the stage, looking out at the awesome sight that is C.Y. Stephens.  The sea of muted red, orange, and gold seats that stretch back forever.  The spectacular loges and balconies.  Just the sheer size of it.  My first look at that glorious auditorium was from the stage!  I was overcome.
Still today, nearly 50 years later, I can't talk about that experience without choking up.  It still affects me.  It was awesome.
Days later, we sang the concert, Poulenc's Gloria, if I remember right.  It was a wonderful experience, and the icing on that cake is that, when chatting with friends about life experiences, I get to casually mention "the time I sang with the New York Philharmonic, under the baton of Seiji Ozawa."  That rocks!"
-Alec P.
"My husband and I remember attending the opening concert at Stephens .  We so enjoyed the concert that we wanted to attend more events.  Money for tickets was rather scarce during graduate school days. He applied for a job as an usher because ushers were required to wear black suits and very few students owned a black suit.  He would buy a ticket for me on the outside aisle near the upper door.  Once the performance started, he would come sit on the step by me.  His pay for ushering would cover the cost of my ticket.  That black silk suit was hand made for my husband in Hong Kong when he was serving in the US Marine Corp in 1960.  He wore that black silk suit to our wedding, graduation and each of our children's weddings. And yes, he still occasionally wears the black silk suit. We remember those days at ISU fondly and love to now take our grandchildren to events at ISU."
-Myrna & David W.
"As a freshman in the fall of 1969 I was in awe of the beautiful new CY Stephens Auditorium with twice as much concrete below ground as above. I attended several performances, played in the VEISHA orchestra production, led guided tours of the building as well as ushered at concerts. My fondest memory was when John Denver came from the Minnesota State Fair as a last-minute replacement for B.J. Thomas March of 1971 and I was working the event. The long black skirted ushers were stationed on each landing waiting for the patrons. Just prior to the opening John Denver climbed the outer steps with his escort and stopped and greeted each usher with a warm smile and nod of his cowboy hat. "Leaving on a Jet Plane" was his hit at that time & one I'll always remember from that night."
-Jacalyn A.
"I saw Fred Waring and the Young Pennsylvanians back in the mid 1970s. I was with my mom, two brothers, and my aunt and uncle. My uncle owned a Ready-mix concrete company in Algona at the time. While all of us enjoyed the show, my uncle kept marveling at all the concrete in the building and wished that he could have played a role in its construction."
-Charlie K.
"Having lived in Ames practically my whole life, I remember that at 10 years of age my very first concert was the popular band "the Cowsills". The opening act was Kenny Rogers and the 1st Edition. To my knowledge, no one had heard of the opening act. I can remember being in awe of the silkscreen, especially since we had just learned about silk worms in school. I have attended many performances over the years but still remember the screaming fans vividly, I had never been a part of that kind of experience before. I am still a diehard rock and roll fan even as I celebrate a milestone birthday this month."
-Amy G.
"My story isn't really a story, but more about how much Stephens means to me. I have thoroughly enjoyed sharing shows from broadway series shows to symphonies to pre-show dinners with family and friends over the years and creating once in a lifetime memories. Creating memories with family and friends through the arts is priceless."
-Madeline B.
"A few Februarys ago, Nick Offerman (Ron Swanson from NBC's Parks & Rec) was performing. As the day approached, the weather was looking to be very nice for a February Tuesday, and about a dozen of us decided to take the day off and tailgate. What better excuse to break out the grills, than to make a smorgasbord of Ron Swanson-themed meats. As we enjoyed a few cocktails with our bacon-wrapped shrimp, steaks, and meat tornados, a gentleman approached.
"I was sitting backstage, looking at the paltry meat tray that was provided, and because someone had propped a backstage door open to let some fresh air in, the aroma of charred animal flesh wafted past my olfactory. Would you mind if I joined you?"
For the next 25 minutes, Nick Offerman was kind enough to humor us for photos, stories, and what not, while I grilled him one of my jalapeño-bacon-cheddar burgers that I had brought. Ever the gentleman, he thanked us for the burger and told the story that night during the show. What an eventful night. Great memories.
A couple months later, as I ate lunch in Minneapolis before the Twins' season-opener, a friend texted. "Did you watch Jimmy Fallon last night? Nick Offerman was on, and he was talking about your burger!" Sure enough, a since-removed YouTube video showed him telling the tale of the crowd in Ames, Iowa who were kind enough to provide him with the fuel that would feed his performance that night in a wonderful circle of life.
That has to be the end of the burger story, right?
My pre-ordered copy of Nick's first book, "Paddle Your Own Canoe" arrived, and I quickly dove in. Wouldn't you know, there, towards the end, he tells the tale of the burger in Ames.
Photo: [Feb 2012, Nick Offerman with Nick Van Berkum and Shandra Van Berkum, while Tony Bohnenkamp and Travis Ballstadt work in the background to grill a burger for Offerman] I should be able to track down more photos if needed.
I also saw Hootie and the Blowfish open for Melissa Etheridge before they became a worldwide phenomenon.
And the time we went to see the Red Hot Chili Peppers with Screaming Trees and "TBA", who turned out to be this young band that didn't even have an album out yet. Their record label had just made them change the name of the band from Mookie Blaylock to Pearl Jam."
-Travis B.
"In late 1967 I had just completed a five year apprenticeship as a steamfitter and worked on the installation of an underground, 10", 125psi steam line that serves Stephens Auditorium.  We started the project in October of 1967 and finished sometime in February of '68.  We connected to an existing steam line in a vault near a dorm on the north side of Lincoln Way.  A tunnel was installed under Lincoln Way and the steam line passed through the tunnel along with some 16" chilled water piping that was installed for future connection.  The steam line then continued, zig-zagging across the field to the then under construction auditorium.  The zig-zagging along with anchors and guides was necessary to allow for the expansion and contraction of the steam line as well as the 4" condensate return line that ran alongside the steam line.  As I recall, we also installed two or three manholes with valved connections for future buildings.
Brown Engineering was the design engineer for the project and Conditioned Air Corporation was the contractor.  I also remember that the mechanical contractor for the auditorium was the Stroh Corporation."
-Steven B.
"While I'm split between a few really great performances I've attended at C.Y. (Ukulele Orchestra Of Great Britain, Taiko, Gordon Lightfoot) the one concert that really has stood out for me was Weird Al Yankovic. A packed house of all age groups that went wild when the question "Would anyone like to hear a polka?" was asked. This was an incredible show that shifted genres song by song, and kept the audience involved the entire time."
-Schuyler C.
"I was just 13 when my parents took me (and NOT my two brothers) on a four-hour journey to Ames for the opening of C.Y. Stephens and the first symphony concert. I remember the bright red carpeting and the colorful seats that started out gold in the front rows and gradually turned dark red as they flowed to the back of the house. In those days, everyone dressed up for the symphony — all the men wore ties and jackets. I even met Dr. Hilton. I so badly wanted a backstage tour, but it wasn't possible. Five years later I was a student at Iowa State, singing in the Oratorio Choir and giving performances in Stephens with the ISU Symphony and touring orchestras from around the world. On one visit by the London Symphony, a special beer run had to be made. The orchestra members didn't like our ice cold American beer. They wanted room temperature beer! I went with other students in the Honors Program to see the National Chinese Opera Theater — nothing at all what I expected it to be. One spring I was part of the technical crew for Stars Over Veishea and finally got a really good backstage tour! A few years ago, while the main curtain in Stephens was being restored, I took my family to Ames to get up close and personal with that wonderful drapery, which was never used during my days of singing in the choir. Our most recent visit was when our son played in a Cyclone High School Honor Band. It's hard to believe it's been 50 years since my first symphony concert. I still get excited whenever I get a chance to attend an event at C.Y. Stephens Auditorium."
-Dirk V.
"I have been attending performances for close to 20 years. I appreciate the variety of acts. I love the music shows and have attended many. I have 5 in my family who attended ISU and they also attended some performances. The staff is very cooperative and willing to help anyone who has a problem or needs to exchange tickets. I especially like the prior meetings prior to the performance as I have learned much from them. I performed as a lead singer in the Barbershop Chorus in Des Moines for 20 years so I appreciate the music performances. I am waiting for the fall season to begin. Congratulations to the Performing Arts for the 50th Anniversary."
-Gerald K.
"I attended the 4-H conference during the summer of 1972 and we had our opening session in C. Y. Stephens. I remember being awed by the building and the beautiful curtain. As a group, we discussed the symbolism in the curtain and we had of all kinds of ideas of what it represented. We could see the symbolism of the Iowa State seal on the left and what we thought was the campanile on the right. Any other ideas were just a crap shoot! During that session, we had a slide show that was set to the music "I am a Rock" by Simon and Garfunkel and it made a big impression on this farm kid from Scott County, Iowa!"
-Dianne B.
"I was there for the New York Symphony. The music was great, but the memory that sticks with the most is rememberin the members play softball against some ISU students. The Symphony members were "out for blood." There were sliding into bases with no regard for injuries. They made their living with their hands, and on the field they were there for a win!"
-Dave T.
"I was in graduate school from Aug. 1971 to August 1972 and was part of the Iowa State Singers. The auditorium was relatively new and we did a Christmas program there in December 1971. As I recall the program included the Philadelphia Orchestra and a boy's choir. There were like 500 hundred of us on stage, but being one of the tallest in the back row I was the first to one to come on stage from the right side. What made it especially memorable was that my late parents were able to see the performance. I would be interested to know if any pictures still exist of this performance. Thomas E. Wall '66 and '72"
-Thomas W.
"We attended the Lincoln Center Jazz Orchestra Concert with Wynton Marsalis with our then 6th grade son who played trombone. After the concert was over, we were waiting in our seats to let the crowd disperse, when a volunteer came by and let us know that there was an open green room to meet the band. It was such a delight to meet Wynton and get his autograph, and he spent several minutes talking to my son and encouraging him to continue his musical development. The only disappointment for me was that before going to the concert, I had taken my camera out of my purse thinking I wouldn't need it (this was before cell phones!) and so we don't have a picture of that meeting. But it is one of the many great memories we have of attending concerts at Stephens."
-Lisa S.
"We coaxed the blues right out of the horn, MAME
We charmed the husk right off of the corn, MAME
We had the banjos strummin and plunkin out a tune to beat the band
We had ISU hummin when we brought Dixie back to Stephensland!!!
I have quite fond memories of 1974 and the juggernaut that was to become Mame, the Musical in CY Stephens Auditorium.  I was the Artistic Director for Veisha that year and faced with the very challenging position of assembling a big group, and I mean BIG GROUP, of singers, dancers and actors that could literally STOP THE SHOW!  It was VEISHA after all, and it was MAME after all.  So with the wind at our backs we charged ahead in assembling the greatest ensemble of artists, directors and musicians imaginable!  We gave the folks what they clamored for, that's for certain; flashy costumes, raucous chorus numbers, a marching band and a leading lady unsurpassed in charm, beauty, presence and the voice of a siren!  Yes, Martha Forsyth wowed the masses that spring of'74 in CY Stephens, and stole my heart several years later… we'll be celebrating our 40th wedding anniversary in 2019!  
Since we're on the subject of STOPPING THE SHOW, how about that little spectacle during Veisha 1976, when playing the role of JUDAS in Jesus Christ Superstar I nearly met my maker, literally, on the gallows in CY.  It was opening night, as I recall, and we had the audience on the edge of their seats.  It was all going according to plan until the Judas betrayal of Jesus and subsequent hanging scene.  Well, sometime previously that evening, some benevolent stage person decided that my flying harness was not appropriately secured, and took it upon themselves to strengthen the "breakaway" vest with fishing line.  The principle of the vest was to hook it to the noose during the hanging scene in order to relieve the downward force as I dropped, taking the pressure off of my head and neck.  You guessed it!  Upon donning said "breakaway" vest and climbing my way to the noose, I thought everything was gong to plan, and didn't this all look so realistic.  Well the time came and there's my cue… "Well done Judas, good old Judas".   All at once I dropped and LIGHTS OUT!  The secured vest did not catch my fall, did not "breakaway", and did not prevent the noose from cutting off my windpipe.  I was literally out cold!  A horrified Cindy Shumate and Alex Pepe tried helplessly to release me from my nightmare, but couldn't lift my limp body from the rope.  Seconds seemed like hours as they labored to finally get me off the stage.  All I remember to this day is hearing the vamp to "Superstar" and getting up off the cold CY floor.  In that particular show the orchestra was up and behind the stage, so the conductor, Dan Hall, could see exactly was was transpiring.  The buzz backstage became, cut the song, skip ahead, oh my God, what are we going to do.  And then there I came, out from the shadows with probably the best stag leap of my career!  GO! GO! GO! came from the pit, and Superstar went on without a hitch.  The show must go on…
Martha and I are blessed to have been part of such wonderful experiences surrounding CY, Ames and Iowa State.  For the rest of our lives we'll cherish and hold the memories dear of the shows and we've been lucky enough to be a part of and the people we've known."  
-Jonathan & Martha
"Dear ISU Alumni Association:
The December 2018 addition of the visions magazine asked for favorite memories of Stephens Auditorium. One of my favorite memories was attending music performances in this beautiful facility , in particular the David Gates and Bread concert in fall 1978, a month or so before my graduation from ISU. If I wasn't a Bread band fan before the concert , I certainly was a Bread band fan after the concert and remain so today. A Bread song will bring back many memories of 1978 and ISU. The Iowa State Center is a great assembly of buildings  and I was fortunate to live across Lincolnway in the Larch Hall Dorm and CY was the crown on the Center. Long live CY Stephens!"
-Martin C.
"MEMORIES OF CY STEPHENS
CY Stephens changed my life. Literally.
I joined ISU's dance faculty in 1976, taking up a what was supposed to be a one-year contract.  That job provided me with opportunities to see CY from both sides of the curtain. Among these was performing in Barjche, the university's annual dance concert. That first year, the concert's lighting designer was Ken Schumacher, who was also the head of CY's student stage crew.  One thing led to another and– we were married the next year (and that one-year contract stretched to more than thirty at ISU).
Ken went on to a long career in technical theatre and management, working at the Iowa State Center, the Civic Center of Greater Des Moines, the World (now Fitzgerald) Theater in St. Paul, and at the University of Iowa's Hancher Auditorium.  A significant number of the Iowa State Center's professional and student staff built careers in theater production and administration, as well, working in theaters and arenas across the country.* Ken gave much of the credit for this to ISU Center Director, Richard D. Snyder, whose leadership was grounded in his contagious love of the arts and his dedication to the extraordinary facility in which they worked.  When Dr. Snyder passed away, Ken described how Snyder had inspired his own career in a letter to his wife, which is excerpted below:
In many ways, Dick was the theatrical Godfather of many people such as myself – people who started in Ames at the bottom and today are in the industry doing significant work.  In my case and, I believe, in many others, we are where we are because of the infectious fascination he had for his work – the work we shared – and the obvious strength of his belief that it is really the best job there is.  He strove always to present a good product, in spite of the fact that we were in a difficult, small market.  I do not doubt that the financial results sometimes displeased his boss, but we, by God, had the Joffrey and Eliot Feld and the Concertgebouw and The Acting Company …and the student crews got to work with all those folks! 
I started out sweeping popcorn after basketball games, and "grew up" in the world of Dick's excellent curriculum.  I am now in a place and a job that I love, and in which I am respected, and for which I would not have been qualified without the opportunities created by Dick's support and leadership. I had the honor of having been accepted as a friend and peer by someone who had been my boss, and who had convinced me, by example, that this is the place to be. We will miss him terribly, but we will keep all we gained from our affiliation with him.
*These are a few of the theaters and arenas at which former Iowa State Center student stagehands have worked.  (Steve Peters would be able to add many more!)
John F Kennedy Center for the Performing Arts             Washington, DC
Civic Center of Greater Des Moines                                    Des Moines, IA
World (now Fitzgerald) Theatre                                          St Paul, MN
Ordway Center for the Performing Arts                            St Paul, MN
Civic Center of Greater Des Moines                                   Des Moines, IA
Hancher Auditorium                                                             Iowa City, IA
Peoria Civic Center                                                                Peoria,, IL
Pella Opera House                                                                 Pella IA
Sioux City Auditorium                                                          Sioux City, IA
Capitol Theater                                                                      Salt Lake City, UT
Topeka Performing Center                                                  Topeka, KS
San Diego Civic Theater                                                       San Diego, CA
Mayo Civic Center                                                                 Rochester, MN
Lawler Event Center                                                             Reno, NV
Shoreline Amphitheater                                                       Mountain View, CA
World Amphitheatre                                                             Tinley Park, IL
Miller Auditorium"
-Dana S.
"Happy Birthday, Stephens. You were all most brand new when I started to attend your events. The one that stands out the most was sitting in your comfy seats and listening to Groucho Marx tell us about his life. We had had a Marx Brothers' film festival and he came to Stephens as his warm up for Carnegie Hall. His piano player was Marvin Hamlish before he was famous.. Groucho talked for more than 2 1/2 hours and he could have talked all night. The woman who was accused of abusing him later in his life stomped out after over 90 minutes and took half his cards out of his hands. I will always remember him saying while the critics, at the time of his show, were trying to give a social reason for the Marx Brothers routines, he said that he and his brothers weren't thinking about social comments . They did it because it was funny."
-Deborah S.
"In 1965 to 1969 people in Ames watched with interest as a very different looking building rose bit by bit along Beach Avenue. Then more interest when people learned about the stage curtain. The only place found where the huge width could be woven without a seam was in Japan. The design was made by attaching short metallic strips to the fabric. It was not meant to be folded so it was rolled. It was very heavy and transporting it would be difficult. The curtain came by boat via an ocean, the Panama Canal, up the Mississippi River from New Orleans to Iowa, and a highway journey to Ames. One did gasp when seeing the curtain hanging in all its glory. Did the design represent campus scenes such as the campanile? What? Beauty, for sure! The Iowa State director of music contacted the New York Symphony to ask them to perform in Ames. The New York spokesperson explained they did not travel that far for a concert. Our director explained how he meant to have more than one performance, as it was to inaugurate our new facility. Inauguration week evolved into an unusual time for the local population and the visiting musicians. Expectations grew and creative efforts were made to ensure the New Yorkers would be glad they had come to Iowa. Plans were made for visits to farms, small plane rides, bicycles for pedaling around town, visits to Vet Med, dining in private homes, riding horses, participating in sports – softball, tennis, golf, handball, hiking. And even a chance to do laundry. The town was abuzz! Our family bought tickets in a loge, second one from the stage. We felt like we were on top of the world looking out over the sea if a packed audience. There were no center posts and no center aisle. That prime space was used for seating and the rows of seats were far apart allowing access to seats in the center. On opening night, finding the seats was an adventure! Did one walk up or down the steps to get to which door to enter into the main auditorium? This building did not disappoint!
It obviously also impressed the conductor Seiji Ozawa as he made a sweeping gesture toward the expansive interior and said, "Congratulations!" My Mother was a musician and piano teacher in Kentucky. She came for the opening. After a few beginning chords of "The Star Spangled Banner", we looked at each other and rolled our eyes. This was a sound we had not heard before, even on records. After this first concert a much discussed topic was, "Where is the best sound?" I have heard orchestra members say they thought that site was the middle of the second balcony. Actually, the sound is good everywhere – bouncing off those fascinating concrete walls – a real plus for a concert hall. As advertised, there are no bad seats. We all knew immediately Ames had gained a new advantage and future household budgets would have to include buying tickets to C.Y. Stephens. For years it was a shining beacon on the prairie drawing people from Iowa, Missouri, Nebraska, Illinois and Minnesota to hear international symphony orchestras and their famous conductors – including Bernstein, Mahler, Solti, and Fiedler. Women often wore formals. Big Bands (Ellington) played. Solo artists such as Beverly Sills and Segovia came. So did the Broadway productions. One of those productions was "The Music Man". That was a fun evening with the composer Meredith Wilson in attendance and members of the Iowa State band marching in from the rear playing "Seventy-six Trombones"! Another ongoing Stephens treat is the I.S.U.'s music department's annual Christmas Festival. If you sit on the outside aisle, when the hundreds of vocalists walk by while singing on their way to the stage, you will understand why those students belong in the choir! Back to the early days, Ames citizens did heed the call to be welcoming and the visitors did seem to enjoy that. Surely everyone who had direct contact had lasting memories.
Conductor Ozawa hurt his back playing softball. My husband took members of the London Symphony fishing. One of them slipped and hurt his back and wound up in the hospital! In our home, when I offered the British musicians tea, they scornfully, though smiling, asked, "Made from a tea bag?" When they returned for their second appearance in Ames, we got a phone call announcing, "We're back!" Later, in Lincoln Center in New York City, I had a front row seat to hear the New York Philharmonic. After the performance I went to the edge of the raised stage and said, "I'm from Ames, Iowa." The viola players and several others put their instruments down and came to the edge of the stage to visit. They remembered fondly the venue and hospitality. I got the same response in the green room of the Barbican Hall in London, when attending a concert there. When some people at the University of Nebraska were being complimented on their athletic facilities, they answered, "Yes, but we don't have a Stephens Auditorium."
C.Y. Stephens Auditorium – a timeless structure.  It is still the awesome world class edifice it was when the doors first opened."
-Terry S.
"I worked at the Iowa State Center, handling media and publicity, from 1984 to 1986 and was so fortunate to interact with so many musical artists and theatrical performers coming into Stephens. My two children, then in junior high and high school, tagged along with me — backstage and in the audience — and were bitten by the acting and performing bug. Today, my daughter is a drama teacher, actor and award-winning playwright and her older brother's avocation is playing guitar for a midwestern rock/blues band. I attribute their interest and success to those days interacting with performers and watching (wide-eyed) the performances in Stephens Auditorium — Corey Hart, Christopher Parkening, Hal Holbrook, Frank Langella, Yahudi Menuhin, the Royal Philharmonic, David Copperfield — the list goes on and on. What a wonderful place to begin a lifelong love of the arts!"
-Linda M.
"Brenda and I met at an orchestral performance at C.Y. Stephens in 1981. I inadvertently ended up with her back pack (she says I stole it) on a geology department field trip and when I returned it to her we found that we were both going to the performance. We hadn't met prior to that event even though we figured out that we were in some classes together. After the performance I gave her a ride home and a short time afterward asked her out. We married in 1984 and have been together since. We love attending events at Stephens Auditorium and look forward to many more years of enjoyment."
-Keith & Brenda K.
"My story with the ISU Center spans 47 years and hopefully is worthy to be told for the sake of the archives —
Arriving at ISU the fall of 1972 from St. Louis, my suburban parents weren't sure why I wanted to go to a school in the middle of cornfields. But I soon proved that the cultural and performance opportunities offered to ISU students were vast. I lived at Linden Hall and then the Chi O house – so I was never far from the Stephens' stage doors. Freshman year ended with my first STARS OVER VEISHEA – Cabaret, followed by Mame, then Jesus Christ Superstar (reference the story John Haut tells about our scary moment with a too-tight noose around his Judas neck!).
As a student who participated in Oratorio, we spent almost all year learning the score of the Alexander Nievsky piece which we sang in Russian accompanied by the Leningrad Symphony. At the time, Russia was still very Communist but the musicians were lovely and handed out lapel pins which I still have in my jewelry box today.
And then i discovered the Dance Department, and the amazing Betty Toman and Phyllis Lepke. BARJCHE was a spectacular and exhausting experience every February. To be able to choreograph and dance on a stage as beautiful and expansive as CY Stephens was a dream come true. Visiting dance companies from NYC were always jaw-droppingly impressed and envious.
My senior year I was hired as part of the CY backstage crew – basically another pair of hands to do some important grunt work which also included driving artists to/from the Des Moines airport. On one such trip I remember an engaging conversation (using words!) with Marcel Marceau!! And a young Steve Martin backstage with a bent arrow on his head. I was also assigned the pleasure of ironing costumes for one of the Chinese dance/acrobat companies – which meant that a very stern Chinese man was assigned to watch me iron. I think I knocked over the iron 2 or 3 times on to the concrete floor because he made me so nervous.
I graduated spring of 1976 and had already accepted a job at the Iowa Arts Council. My time on and off the CY stage had emblazoned the performing arts in my life by that time. And shortly thereafter, I was accepted as an intern at the National Endowment for the Arts in Washington, D.C.
Never thinking that I would return to Ames, I was the first person hired in to the position that we called Audience Education Specialist. Assistant Director Jack McAuliffe had applied for a grant and got it –then flew to DC to interview me in the last few weeks of my NEA internship. Back I headed to Ames in Feb of 1977 and the job was mine to create – writing a weekly story in the Ames Tribune about what was happening at CY, escorting artists for radio/tv appearances, speaking to schools and groups tall over central Iowa. But the best was founding the Celebrity Cafe where I was able to conduct live interviews with artists (celebrity and local) both before and after performances.
In August of 1980 when I went in to tell Dick Snyder that I was leaving my position to move to CT with my new husband, I also told him that I thought I was leaving what would probably be the best job of my life (it was my first). In many ways, my prediction has come true. I loved what I did at the Center and was sorry to leave so soon. But even after all this time, it has never been far from my heart!
Wayne Davis was Director of Public Relations, joining the staff about 5 months after I did. I don't think he was the first in his position because there had always been PR from the Center. But he was there the longest – and was definitely the classiest!! He and I shared an office in what had previously been an electrical closet across the hall from the official ISU Center offices in the Scheman Building. He was in his mid-50's and I in my early 20's and although he was always a proper gentleman, he charmingly referred to me as his "roommate".
Scroll forward to about 2013, Wayne contacted me and said that he was making plans for his "post performance" event – he was in his early 90's at the time. He said that this event would be in the Celebrity Cafe, that the date was not yet determined, that he would not be in attendance, but that he wanted me to dance. What was I to say? I was 59 and hadn't taken a proper dance class in several years – but my answer was "of course!" And then I attended a performance by the Martha Graham Company where they did her famous "Lamentation" and I knew I had my inspiration for Wayne – "Lamentation" is done primarily sitting on a bench – and at 61 and with bad knees i knew I could do this.
Wayne died in early 2015 and his memorial was in September that year. i performed my version of Martha Graham's piece with Wayne's family and friends, and my former Journalism professors in the audience, coached by my long-time dance colleagues Valerie Williams, Dana Schumacher and Phyllis Lepke, and supported on tech by Jake Ewalt (part of our amazing tech crew back in the 70's). Surreal doesn't come close to describing the powerful experience of being back in that space where we created and discovered so much so many years ago, but where the circle proved unbroken still after all these years.
Thank you Mr. C.Y.Stephens for your gift 50 years ago. I'm sure that you knew that there would be world-class performances held on this stage – but i'm quite sure that you could have never envisioned some of the back stories that have been etched in to the concrete walls, nor understood the unique ways in which you would influence lives of so many."
-Cindy S.
"If my memory serves me correct, we were supposed to see B. J. Thomas in concert in the 70's (?). He couldn't make it so this replacement, a young man, sat on the stage and played his guitar. My first introduction to John Denver. I think people liked him so much he came back again with a few more musicians. And later I saw his full orchestra concert in Des Moines. Still like his music."
-Karen S.
"As a member of AIOFA my husband (Chuck Gray) and I hosted an after-concert party at our home in 1976 or 1977. Dee and George Hegstrom were responsible for the featured pianist Jerome Lowenthal after the concert. I don't remember which orchestra he was performing with but certainly remember when he sat down at our piano and played a one-handed composition for the group. We were all moved and awed to be part of such a special performance. No doubt that it why I can remember his name from such a long time ago. It was amazing. I understand Mr. Lowenthal at 85 is still performing as well as teaching. This is just one of many happy memories from 50 years of enjoyment at Stephens auditorium."
-Carole T.
"C.Y. Stephens holds a special place in my heart. I have enjoyed countless performances from a wide variety of genres throughout its 50-year history and have been honored to perform there myself on several occasions.
I was there for the opening in 1969. My family had just moved from Indianapolis to Ames, so I scarcely remember Ames without Stephens. I remember the excitement of selecting a program from the five performances of the New York Philharmonic, and I even got a new dress and my first high heels for the event!
One of the major highlights of my entire life was when I performed with the Iowa State Symphony as a guest piano soloist. Though I had changed my major from music to Statistics, I continued to study piano with Dr. Marian Barnum. In 1975, I was one of the winners of the concerto competition and I had the privilege of performing the first movement of Schumann's Piano Concerto in A minor on the stage of C.Y. Stephens. It was such a thrill! (And another new dress, of course.)
I have a vague memory of someone telling me at that time how carefully the piano had to be positioned on the stage so that the sound wouldn't all be swallowed up in the space that accommodates the huge curtain. At a reception after the concert, I met a young composer and Iowa State alum whose new composition was premiered on that same concert. In the late 1980's, when my family and I moved back to Ames after 10 years away, I encountered Jeff Prater at church and immediately recognized him as that young composer, and our families became good friends. Since there was virtually no home video capability or even good personal audio recording capability back in 1975, I was very fortunate that my performance had been recorded and later broadcast by WOI radio. WOI gave me a copy of that audiotape, and Jeff burned it to a CD for me. Listening to that recording still brings my 98-year-old mother great joy.
I have especially enjoyed all the opportunities that my children had to perform there while growing up in Ames. My daughter's love of acting began when she performed in the Stars Over Stars Over Veishea production in 1993 and in the SOV production of The King and I in 1994. Both my children performed in honor choirs and honor bands at Stephens, as well as at their High School Baccalaureate ceremonies. A side note: When my daughter performed a flute solo at Baccalaureate, I accompanied her on the piano. I found an elegant black dress, perfect for accompanying, to wear for that performance, but I took a great deal of teasing about it, since it cost me only one dollar at a local thrift store. If it weren't for the occasional performances of shows like The Full Monty and M Butterfly, I might well hold the record for the least expensive attire worn on the Stephens stage.
C.Y. Stephens and the Iowa State Center have been significant in my life in many ways and I believe that Ames is extremely fortunate to have access to such a facility and the wide variety of high-quality programming it brings to our community."
-Jane K.
"For several years, my friend and I got tickets to see the Stars Over VEISHEA production in Stephens. So the following year, we bought our tickets and went to Stephens. Then other patrons entered and were convinced we were in their seats. We checked the tickets again and were sure that we were in the correct seats until someone pointed out that we were in the wrong THEATER. They had moved the SOV show to Fischer Theater. Thankfully they aren't far apart so we made it to the new theater on time to see the production we actually wanted to see. My favorite Stephens memory is the show that I didn't actually see in Stephens :)"
-Ellen J.
"In 1969 I was a sophomore in the Sheffield-Chapin high school band and fortunately our director arranged for us attend a matinee of the New York Philharmonic during the opening week of C. Y. Stephens. I will never forget the lush sound of the strings as they played Smetana's "The Moldau". Overall I was overwhelmed with the rich sound, spectacular curtain and wonderful architecture. When I later attended Iowa State I frequently went to performances at C.Y. and took advantage of the last minute discounted tickets for students. Stars over Veishea performances during that time were unforgettable! I particularly enjoyed being a student member on Music Council that selected the programs for the year. C.Y. is such a monument to the arts for Iowans and has benefitted so many of us!"
-Charles S.
"I attended a concert that first year, as a freshman ISU student, at C.Y. Stephens that was headlined by The Cowsillls. We heard a group I hadn't known before that concert and heard Kenny Rogers for the first time. He introduced a great song called "Reuben James". My recollection is that Ames had a cloudburst rain storm shortly before the concert and I saw fellow Ames High School 1969 recent graduates picking up their girlfriends, carrying them into CY for the concert so they didn't get wet. The concert was great and the acoustics in the auditorium have continued to thrill me for years."
– Ron F.
"My wife (Beverly BS '67) and I (ME'68) were at one of the performance of the New York Symphony. As an engineer, I remember sitting near the back on one of the top balconies and hearing the pianist slide the stool on the stage with no amplification. Immediately appreciated the acoustics!"
– Roger V.
"My wife and I were attending the second of two performances of Kenny Rogers and the First Edition. The evening was wet and we had experienced a downpour that was ending but we were still carrying umbrellas. As we crossed the inundated parking area south of Stephens, a young man came running diagonally across several inches of standing water in the parking from the auditorium, when he simply disappeared, over his head in one of the large ditches between parking surfaces. He immediately popped up, scurried up the other side and continued trotting off as if nothing had happened. Only years later did I wonder if this was the inspiration for the Cirque de Soleil performance "O." It was one of those moments that can never be forgotten and never recreated."
– Mac K.